In keeping with the leading role of the Arab Academy ...
Under the auspices of H.E Prof. Dr. Ismail Abdel Ghafar ...
Within the visit of H.E Prof. Dr. Ismail Abdel Ghafar ...
H.E Prof. Dr. Ismail Abdel Ghafar Ismail - AASTMT President ...
Within the continuous support and utmost solidarity with the Palestinian ...
Our department is glad to announce its trip to Bibliotheca ...
Egypt's first World Youth Forum (WYF) is held from 4-10 ...
The Head of the Department of Basic and Applied Science ...
Final exam for 1st & 2nd semesters college of engineering ...
Dr. Khamis Essa visit on the 4th of April2017. ...
AASTMT Agreement On "I Post Project" Company
Published: Wednesday,06 December 2017 13:37 |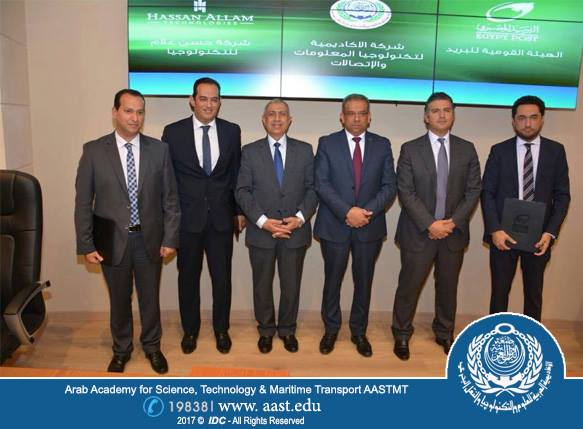 In keeping with the Arab Academy for Science, Technology and Maritime Transport (AASTMT) leading role in serving the Egyptian society as in the rehabilitation of human resources, the Egyptian National Post Organization (ENPO), AASTMT Company for Information, Communication Technology (ACICT) and "Hassan Allam Technologie Company" signed an agreement to establish a company to manage the IPost project, where the agreement was signed on Tuesday 5- 12 -2017, in the presence of H.E Prof. Dr. Ismail Abdel Ghafar Ismail Farag - AASTMT President, H.E Essam Al-Saghir – Chairman of ENPO and H.E Eng. Hassan Allam - Managing Director of Allam Holding Group.
It is worth to mention that the IPost project is composed of an electronic delivery and receipt units that will be available in customers gathering areas in major malls, universities, clubs, metro stations and public places, where Customers can benefit from the service at any time, without any limitations that are related to the official working hours or the need to go to post offices.